Hello everyone!
It was nearly 130am after finishing the post last night. I am tired and look forward to Friday so eagerly....
It was my first session of sewing yesterday. I did not get there on time because of work though, I am grateful for able to get there and learn!
It was exciting. There are a lot of things will be covered. We are going to make 3 pieces of things out of 12 sessions. The first assignment is making a skirt. Before doing a skirt, we need to measure our body, followed by doing marker (紙樣) and then put in onto the cloth prepared and finally making the skirt. We are going to take 5-6 sessions for making the skirt, tutor said, we could spend shorter time for making the vest and the shirt, which are the rest of the assignments.
measurement and marker sample for skirt
Skirt sample for references.
The first thing I need to do is get a measuring tape to measure my body, according to the handouts. It is not easy indeed, you need some tricks in order to get a well fit of the body. At the blackboard, she wrote "
個人裁縫師
"...oh, it sounds really cool!! I think of the designers of project runway.
Snapshot of the show, designer works hard to make a dress with a given period of time, normally in one day...
Judging panels including designers, models, mamagzine editors (front) and competing designers.
Exciting =)
Good Luck!!
スポンサーサイト

oh, the nightmare is nearly over...
Finally...finally, after weeks of hard work and stressful incidents, I hope the things can be cleared tomorrow, and after that, I can have some peaceful moments at my work.
Some of you have already learnt what happened these couple of weeks. I am so glad to have you stand by me, listen to me and stay with me. Your love, patience and time means a lot to me. Under the storm, your love and care is my shelter, gives me a place for rest and strength of moving on.
Something wrong happened with the project during Easter already. I was so lose during then, after that thing happened, I prayed so hard and thought about my work ALL OVER again. I took a review of my work, my everything, my attitude...I realised I need to work harder, even though I wanted to leave, I felt there would be regrets if I left without trying harder. So in the following weeks, I came in office early, I get my job done whenever I got them. I cut facebook and blog and YT. I need to concentrate on my work. Times flied and I thought things were running good, suddenly, it turned out to be a nightmare. Work got rejected repeatedly without reasons. Stayed at office to correct things after supervisors' comments until 10pm ...Things got heated up, supervisors lost her mind and limited tolerance, only criticism and dissatisfactions, only reviews and comments without seeing an end.
Then at the certain point, someone yelled at me, I reached the point of nearly breakdown. I did not how to react, except feeling shock.  
God did not leave me. A colleague was really helpful and showed her concerns and help. I was grateful for her kindness. Luckily, I always have friends that I can rely on. Right after finishing what I needed to do, I called her immediately and asked for advice.
When I came home, hubby's support means a lot to me. His assurance gave me a moment to breathe. I am not alone. Thank you.
The following days, I came in office as usual. They pretended or they really thought that there was NOTHING happened. But I have changed.
Now, at this point of my life, retrosepct to what happened, i need to be thankful indeed. For this time, I did not run away. I remember I was in the restroom and I prayed, "Dear God, it is really hard, it is really hard for me. I am really hurt and painful, I want to leave, I dun care what would happen next. But, I know, you put me here for reasons, though I have no idea of what it is. If you want me stay, I STAY. Let me stay. FOR THIS TIME, I WILL NOT RUN AWAY AND STAY AND KEEP MY EYES WIDE OPEN TO SEE WHAT HAPPEN NEXT!! I AM NOT GOING TO  DIE, SO NOTHING COULD SCARE ME!! YOU SHIT AND SON OF THE BITCH!!"
Dear God, thank you. I learnt something. Thank you for giving me strength, thank you for giving me love and support from friends. When I was hurt by some people, I was also loved by some people. There will be another door open when you close one. Other than my friends, I think I am a little stronger than before. At least, I know what to do with such people. Somehow, such incidents also pushed me to think, a bit further of my life.
Thank you.

hello all
my dear friends
After watching Last King of Scotland on Pearl, a couple of weeks ago, I fell in love with him instantly.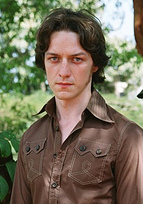 He is James McAvoy.
In Atonement, Robbie, the character melts the hearts of every audience.
It is such a heart broken movie. No happy ending. I can't help not to have running tears at the end. Gees, JM is just so great. His eyes are so powerful and can say million words in one look. Keira Knightly is also good. Some critics say they have strong chemistry at scenes, it is undeniable.
I want to share some clips here unfortunately the author prohitied me from embedding the code. Please check this out.
The last part of the clip, OMG, it is one of my favourite scenes. His performance is unexceptionable. Kiera and him supposed be together, however, for some reason Robbie(James)was sent to jail. It is the scene of him going to war. Oh, there are too many things, can't tell all at once. There is not much words, but with the gestures, the look, they tell everything about the characters in a manner of subtleness.
http://www.youtube.com/watch?v=oeTEScujELY
Gosh, McAvoy, I love you!!!

wowowow
what a week.
This week, I came in office at 850am, every single morning.
3 days only, but I feel liked a week.
Last week, me and other colleague were "invited" to have small talks with our supervisors, twice.
Suddenly, things, at work, got clear.
Good.
No more guessing, no more trying to be nice.
Good.
Cuz I am not freshgrad, i did not even scare.
Perhaps they did not say the final sentence.
Thanks for that.

SO, what it is?
成長是甚麼呢﹖
我們追求成長,可是,怎樣才知道自己真的成長了﹖
以前常做(喜歡)的東西,現在不再做(喜歡)﹖
曾經對某些事情很大感動,現在此情不再﹖
對同一件事情,有了不同看法﹖
再想,成長其中一個過程,就是經歷未經歷,既然未經歷過,我又怎麼知道自己成長了﹖
成長,是一個過程,並不是狀態。這個過程,或者要經過痛苦、喜樂、哀傷、忿怒...,因為要坦誠,真實地面對自己,拿起勇氣拆去舊的,再建立新的。
你今天有成長嗎﹖

to my dearest friends,
Thank you all for showing support by telling me you keep visiting here and read my stuff :)
Whenever I want to write something and post anything, I will think of you who keeps reading this and will try my best to make things interesting, so that not bored by me ;)
hahaha, I promised a fd earlier that I will make a post of what I bought recently, mainly about clothes. However, there is not too much time after work and don't want to "work" at vacations, my clothes are still being kept in the closet. :P
I havent finished the book, The Paradox of Time. In fact, I have put it aside after flipping a few pages. Then I found this,
靈修導師的幸福8堂課
。If you are Catholic, you may find easier to understand. I read this for 靈修purpose, for some of the time. Then I found another book, "
Awareness
". The word sound so buddha, but I bought it from 公教進行社, so I am quite sure it's OK and helpful in 靈修.
For me, 靈修 is no longer reading bible, or a typical, MUST DO Chrisitian practice. It is one of the ways of connecting with yourself, or connect to God, whatever you named. I have gained a new understanding of spirituality after my Master Programme, since then I seem get addicted into spiritual stuff. I feel like spirituality is something boundless, that it is not merely a Buddha stuff, Christian or Catholic stuff. It is something lied within us deeply. It is liked a treasure, when you find YOUR way to the treasure, that is able to connect with yourself, then you are a profound human being, in new age term, it is "maginified", I supposed.
So, if you find the key, then you would become integrated, you become one, become wholly. It is a treasure that you can take whenever and wherever you want. It is boundless and it is within you. But then I think of what Jesus says, he says He is the way to heaven. I wonder, if the state I describe is "heaven", and if you want to really get there, then you have to know Jesus. That is what I understood at this moment.
I am really, really glad to know all of these. There is joy with me when i get knowing more things about spirituality. The book
靈修導師的幸福8堂課
shares what does Fathers, sisters, and other spiritually strong do, say and write, shed readers glimpse of thoughts of such people. What is Love, what is live, what is work and what is death to them...
Then comes the "
Awareness
", the writer is more radical. He says awareness is wake up. If you want to wake up, you need to admit that you do not want to wake up...Oh gosh...if you are interested, please visit his website
http://www.demello.org/

Hello everyone,
Hi! Long time no see u at here!!! How have you been? What have you done?
In fact, I did ponder whether I should continue this blog, especially these couple of weeks, I have tried to delibrately prohibit myself from switching on the computer at home. I thought I would miss and get abck in front of computers asap. I found that it is not that a big thing even though I haven't blogged for a couple of weeks. It makes no big dfferences in my daily lives. I still have a lot of thoughts and ideas to share with you at anytime, any place. It reminds me the reason of starting a blog was to share and expressed myself, whether they are private or public. However, blogs now have become a tool of making business. People sell things, or put thousands of pictures of sharing what they eat, where they go and what they buy, I am a bit suffocated with this kind of blogs.
I don't think i would give up here easily, I have put quite a lot of effort on it. But I do need to think about why do I blog, and write at here. I hope that what I write is as genuine as possible, and this blog continues to draw attentions from you.
Love,
R

My other blogs
Profile
一個徹底的白羊人。做事憑一股衝勁,接著後勁不繼,即朋友說的3分鐘熱度。怎麼說好呢﹖
即使只有3分鐘熱度,也學習如何好好發揮,成為最漂亮的永恆。
Author:martharita
事事有時節,天下任何事皆有定時: 生有時,死有時,栽種有時,拔除栽種的亦有時; 殺戮有時,治療有時,拆毀有時,建築有時; 哭有時,笑有時,哀悼有時,舞蹈有時; 拋石有時,堆石有時;擁抱有時,戒避擁抱亦有時; 尋找有時,遺失有時;保存有時,捨棄有時; 撕裂有時,縫綴有時;緘默有時,言談有時, 愛慕有時,憎恨有時;作戰有時,和睦有時。

事事有天主安排。