上記の広告は1ヶ月以上更新のないブログに表示されています。
新しい記事を書く事で広告が消せます。

hello all!
今日天氣好好啊!陽光普照的。近日在辦公室的天氣可沒有這樣好了,就似人們形容的London一樣,天色昏沉的,真的很depress
啊!
媽去了旅行,應該今天返來吧﹖她也像我們一樣,一但出遠門,除了第一天報個「平安抵步」以外,其餘時間都不曾致電回家報平安,不過我和弟又不覺得是甚麼一回事。人到了外地,而且是旅行,當然「我心感興奮
!」那有時間或心情致電回家呢﹖
這幾天她不在家,家裏的衫褲鞋襪就和她出發前一樣,原去不動,只是要洗的衣服已經堆積如山,原打算即使她不在家,也要好好打理這頭「家」,哈哈,怎料連自己也沒有好好打理呢!
同時,這幾天在外吃飯時卻不用擔心遲了回家要看老媽子面色
,一個人在家裏想怎樣就怎樣﹕燒香芬燒蠟燭
、FING機
、大大聲講電話
、睇碟睇電視睇通宵
、去朋友家玩
不用交待不用心掛掛......彷彿似放監一樣!
這種「逍遙」的日子很快就會結束了,其實有點討厭這種心情呢!因為就似青春期的少男少女一樣,總是想阿爸阿媽不在家......可是本人都不是青春少艾喇!還抱著這種心情真是太尷尬
了,不過卻又是千真萬確的事。
朋友J常說我獨居不好,可能她認為我會生活得似放監的人一樣。不過我想我又不會是喇。假如我真的一個人住,除了「享受」一個人的自由,還得面對及
獨自
承擔生活的壓力,再沒有人為自己準備晚餐
,不夠零用錢也得靠自己解決
......,雖然可能每天都有朋友一起相聚,不過回到家裏總得面對一個人的寂寞...假如自己不能夠好好調節自己的生活步伐及心情,是難以承受的。但我行嗎﹖不知道,不過我又很想試試看。雖然到了今天還說這些話實在顯得幼稚,不過正如前文所說,對我來說卻是千真萬確的事。
スポンサーサイト

Have found some interesting sites, no time to update it thoroughly, check them out.
Have you heard of colour healing? You will found 48 bottles of oil with a numvber assigned to it. Choose one you like and you will see explanation follows.
http://littleseashell.blogcn.com/index.shtml
Found accidentally. Look for some insights if have troubles with your work.
http://tw.myblog.yahoo.com/104-jobbank/article?mid=302&prev=305&next=290
A classmate of BH told me about energy healing and I found this about chakra. Energy healing is a big huge thing indeed, but mainly relates to new age. Check this out if you are interested in NA.
http://sacredcenters.com/articles/mindbody_article.html
Something about Aura, similar thing afterall
http://www.aura.net.tw/content/view/65/73/
Will someone prepare these for me please?
http://www.socialwork.com.hk/food/soup/chan-ton/html/ct-as-select.html
This one is very interested for those who love make-up. The writer is an MUA and she was a social worker, I supposed.
http://hk.myblog.yahoo.com/makeuprainbow/

Hello everyone,
How's your holiday? What did you do in the holidays? Have fun? I went to the beach with friend yesterday and I had a lot of fun with that. G always asked me out for sun-bathing. I am very curious with it. I don't have friends going to the beach as easy as going to cinema. Go to beach is very huge to me, like a celebration or something very special you need to plan a day in advance.
The weather was so good yesterday
and I think of G immediately, "can't waste such good weather!" I told myself. After the call, we met at Exchange Square at 3pm.
The sun was not really strong, I plan to lying on the beach for some minor degree sun tan, that's it. After seeing the sea, feel the fresh breeze and I was wearing swimming suit!!! I can think of any excuse not going into the water anymore!!!
. I thought it would be very cold but the water is surprisingly warm, I was swimming in the sea like a Golden Retriever
. G told me that she saw me keep smiling when I was in the sea......

The weather was so fine! I love this luminous transparency blue!

It was this beautiful lady to go to beach with me
! I am happy when I was with her.

I pretended I was a tourist that being very curious about every place I saw. I was so excited!

Hahahah! Seldom see me in bathing suit la
! I decide to have a "big release"!!!!
At least for yesterday!

I looked like "Ami" in "Mo M\ing's story", the red shirt and the spiky hair!

It was almost sunset when we left the beach, I took this picture. I love the shape of the leaves, the shadow and the golden sky.

Sunset
in Stanely market .
We then had a T in a resturant named Boathouse near Stanely which is at the corner. I always wonder what would it look like inside the house, another wish is completed
!
After knowing G, I found she has more faces then I used to know. She's a very sporty who loves outdoor activities such as hiking, swimming(she's a keen swimmer though she's not good at it, she told me
) , going gym for real exercises ( ha, I supposed many of us are for sauna
), yoga, belly dance... At the same time, she also goes drinking with fds, window and non-window shopping, offer many good tips and first-hand experience of make up...She seems to have a vivid mind and active life-style. I do admire her sporty side
. It inspires me there are many other choices of pastime activities instead of movies and books. Exercises do bring me lots of good and strength
. Although I cannot be as active as her, I will take her as an inspiration, go to the beach, have a sun-bathing, go to the nature when you are feeling tired and hopeless.


Me and G @ boathouse

The more I know, the more scare I am.
Today, I attend an afternoon session of counselling and psychotherapy, in short, it is PC in Action. It is a special session for BH students where some clients, mostly referred by other parites such as hospitals, whatever, into BH centre to have some therapy services. I think it is very commin for Social work students or other psychiartric nurses or those who are dealing with mental health issues. For me, it is a completely new thing.
A normal session is screened session means students sit in a room with one view window while others ...
SHIT! announcement has just made that the library is closing!!!
I will tell you more when I at home.

Hello!
終於可以online及寫blog了!最快樂的莫過於本人現在HKU的MAIN LIBRARY給你告訴最新近況!感謝主,這樣奇妙的事也可以給我遇上!太好了!
這幾天一直都很想寫BLOG,可是回到家裏又實在太累,即使開了電腦,腦袋也一片空白的,不知道自己想寫些甚麼。在辦公室裏卻沒有時間,因為伊條粉搶既細路電視無事無刻監察著,不便太張揚。加上工作的確愈來愈多,資源褲、說了十萬年的產品網等等已經密鑼緊鼓開波了,這幾天忙的都是schedule, schedule+schedule。
日頭坐在辦公室做做做,都沒有想清楚自己正在做甚麼,與及為了甚麼。當然,坐在辦公室志在完成案頭上的工作,可是每天都是這樣子,文件及時間表重覆又重覆,久而久之就變成了「營營役役」的工作了。這些工作實在令我感到十分疲倦﹕「為甚麼總是重覆自己呢﹖」我不斷反問自己,可是這不是一個設問題目,永遠沒有答案的,我只能夠撐著
,希望能夠早點找到答案。
不過難得今天「偷」得浮生半日,我真的很高興。覺得空間突然大了,也可以多思考自己在工作方面還有甚麼突破空間。其實,在這間公司是沒啥空間的,不過我
豆她們的人工,自己要交貨,我要求自己交的功課1) 準時、靚又正
這是對自己的工作基本要求。
學業方面,記得初初要求自己有好成績,哈哈,不過現在覺得難矣
!因為有太多東西不懂,甚麼DSM、甚麼-nia、-phia......很多名稱都不知道人家說甚麼。昨天在忠僕號買了兩本psycho的書,程度只有入門程度,就似那些甚麼百科全書,輕描淡寫的,可是已經夠我看,看了幾頁,覺得都有幫助。2)看指定readings及準時交功課。24號已經要交paper的題目了,聽聞還得以powerpoint present!唉!不知點算好!哪找個 "client" 給我做甚麼therapy好
﹖
要想得遠一點......

I found this accidentally, again.
http://hk.myblog.yahoo.com/chiangwaiyuannie
just put it here for future reference, I want to dig it more.

Anyone interested?

「忠僕號」流動書展抵港
(星島) 09月 12日 星期三 06:30AM
(綜合報道)
剛發現「忠僕號」有個blog
,去睇睇啦!



(星島日報 報道)漂流海上近百年的客輪上看書,或許能加雅興。闊別港人七年、世界最古老的在航郵輪「忠僕號」第八度來港,亦可能是最後一次遠征香港。六十五萬本書在船上等待和港人見面,英文書約是市價七折,大學參考書只花五十元便可捧兩本回家。
  「忠僕號」建於一九一四年,九十三歲高齡形象百變,曾任客貨輪、豪華郵輪,在一九七八年由國非牟利慈善機構GBA「好書共享」協會發掘,成為巡迴世界流動書展 的平台。「忠僕號」今次是最後與港人見面。
  全船共有六十五萬本不同類型的書籍,絕大部分是英文書,約兩成半中文書。由成人心靈叢書,至兒童顏色畫冊一應俱全,英文書約是市價七折。如一本厚兩三吋的英文字典,最貴的僅售一百元正。大學程度參考書更以超低價發售,市民只須購買一個售價五十元的環保袋,便可任選兩本大學參考書。賣書收益用於慈善用途。(好吸引啊!
)
  船上有來自世界各國三百二十名義工,全是自費上船生活服務。港人陳穎欣在船上做了兩年義工,其間隨船隊到訪過十九個國家,經歷比同齡青年更多姿多采。
  ○四年九月預科畢業後,陳穎欣在船上進行了兩個月的短期訓練,半年後便正式上船展開周遊列國的義工生涯。暈船浪是她首個重大挑戰,「第一次出航是由南非去非洲 ,頭兩三天吃完便吐,在船上根本不能進食。」陳覺得這份工作意義重大,並不想放棄,因此排除萬難克服暈船浪。
  陳是船長的秘書,但其工作範圍卻跨多個職務,上至清關手續、安排船上工作,下至倒垃圾、洗廁所,一一照辦。這次跟隨船隊返回「娘家」,她感到異常興奮,期望有更多市民能上船參觀遊覽。船隊人員都是來自不同的國家,尤如一個小型聯合國 ,陳表示與不同生活背景和文化的人一起工作,是一件較有挑戰性的工作。
開放日期:
2007年9月11日至10月7日
*逢星期一休息
**2007年9月18日(星期二)及2007年9月23日(星期日) 休息
開放時間:
2007年9月11日 (6:00pm – 9:00pm)
2007年9月12日至10月7日 逢星期二至六 (10:00am - 9:00pm);逢星期日 (2:00pm – 9:00pm)
登船費用:港幣10元 *65歲以上及12歲以下人士免費進場 (小童需成人陪同)
登船地點:海港城海運大廈二階 (近OT280號舖 – Nautica)
特備節目: 「忠僕號」生活現場直擊!
「忠僕號」船員將熱烈歡迎一家大小來盡興一天,並與大家分享他的生命故事。日期:2007年9月26日 (2:00pm – 5:00pm)、2007年9月29日 (2:00pm – 9:00pm) 2007年9月30日 (2:00pm – 9:00pm)、2007年10月6日 (11:00am – 4:00pm)
查詢: 2118 8666
website: http://www.harbourcity.com.hk/whatshot.php?id=242&page=1

hi all,
Last night I was too tired to update all of the happenings lately, just enough to upload the pictures of Leo Ku Concert and share some of the thoughts. I went to bed immediately after updating blog.
Yesterday I have taken half day off to submit my application form of student registration card. OMG! I haven't been doing this for a long time. After lunch with colleagues at garden restaurant, I supposed to take no.23 to HKU. I found that my shoe
of my left foot was broken, then I went through NP looking for a shoe repair shop. Finally I found one near garden mansion (I forgot the housing estate name). On the way of looking for shoe repair shop, I have walked through the market street of 春秧街. This street is so alike with Hunghom old style market, so messy with lots of clothes you doubt where did they come from, mainly from China
. Lots of elderly
wandering and looking for something to buy, also lots of people seems coming from China...they don't even speak fluent Cantonese, but they are the vendors of various shops... I asked one of the girl who is a housekeeper of a toy shop if they know any shoe repair shop nearby, no one can tell me. I was frustrated. This street is a busy market place, very "Chinese" which represent part of our local culture, now it has become where you don't want to get closer anymore. The shops look the same, but you don't recognize the faces anymore. You know they are different. I don't have a sense of belongings...I cannot connect to this place, It's liked a mainland people colony
.
Finally I found and had my shoe repaired, the shop keeper is talkative and she told me I have a breathe! OMG!!!
She asked me if my digestive system is not good. We talked for awhile, she told me her diet history, visiting doctors for slimming pills. She tried lots of methods to get slim but soon regain weight and eventually she found that STAY HEALTHY is her ultimate goal. She told me to have more juice for a better digestive system.
Then I went to take fast photos for the application forms. I look...well, I was like the people in overseas taking passport photos in photo booth...I dunno, I have that impression...
I went to submit the forms, the staff was really good to me, she told me lots of things about what to do to save my time and she helped me to pass the medical record to medical office...
I wandered around HKU campus and found this nice building. Any idea of where am I?
呢張係我全日最後影既相,係HKU art meseum入面。影完之後覺得自己似自由行。

影既時候突然覺得,其實眼前既野已經係歷史......再用白mode影多張。

今日我行過呢條路,佢成為我歷史既一部分。

入面樓底好高,我都想將來屋企有個咁高既地方放書......整整齊齊,好雅致。
原來入面有人上堂的!仲用緊pwoerpoint講緊書,即刻將我從歷史既幻想中拉回現實
。

哇!唔講唔知!原來已經93年喇﹖

好得意,仲整埋一個好似checkers 咁既地方,但真係有幾多人會係度休息呢﹖

呢個位令我想起中學時某個corner--St Michael Statue附近

有無人知道呢度係邊度﹖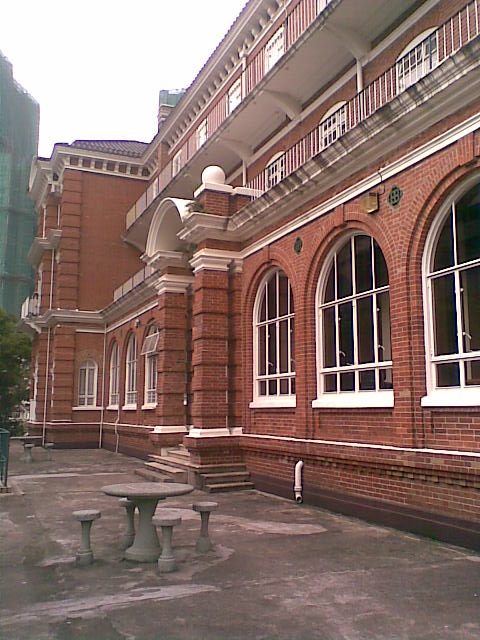 我黎呢度交form,呢度架lift好騎離,黃子明永遠都唔到地下果層的!


A good friend of mine gave me two tickets of Leo Ku concert. I have not been to concert for a very long time. The last time was Suede is Elizabeth Stadium( I don't quite remember the name). It was a good concert, a lot of performances.
A beautiful girl dancing ballet, an mini orchestra dressing in costumes as forest fairies playing traditional musical instruments such as piano, violin, cello, even harp! It was not just a mere singing concert, yes, he did sing and riding on a monster slowly sliding down from the ceiling of the stadium. He has lots of styling, sometimes he played as a knight, sometimes he is doing himself. Anyway, there are some of his old songs and many new songs which I seldom pay attention to them.
Vivian Chow was his special guest and they sang 愛得太遲 together. Oh, Vivian sang really ...I cannot imagine how can she be a singer sings like this
...However, she sounded so professional when she do the talking while she's having chit-chat with Leo Ku. LK cried in the middle of the "sharing", I am not sure if it is real or not. Before Vivian, LK also invites other singers in the Gold Label to have some performances together.
There were totally seven of them including 方力申、側田、小肥...and other three, I forgot their names.側田 can sing, he has a nice voice. Some fds told me that he can sing, I didn'e believe in them, after hearing his sing live, I agree with them

The show will start soon...There were a few men dressing in "scream" costumes keep taking pictures at the stage...The seats are not bad, we were sitting in the first row of the corridor, the only shortcoming is the handrail standing right in front of us...it has blocked some of the view indeed.

People will have a pair of plastic "blow gas" stick, you pump them up and hit fiercely to create an atmosphere of thundering, like watching basketball games...

Those sticks are sponsored by above

LK wear a huge pair of wing at his back, he walked close to us and the stage went up by itself. Everyone is so high and screaming, hitting the plastic thing, he was singing. The thing beneath the the round stage was a "blow gas" dragon, like any dragons you see in TV games...

Can u see the dragon right underneath the stage? In the middle of the stage just below the big TV was the beautiful young ballerina lying on the floor pretend that she's dead or get hurt.



The string for tieing up the wings almost choke LK to death because it went the wrong way and he can hardly sing, later he said in the sharing session.
He has tried his best to do his show, like this is the last show...I suppsoed every "artist" will have the same faith as "this could be my last chance standing in front of people to perform"...That insecurity drives you to a farther place that you never really know.

20070908
I still cannot believe I was sitting in the lecture room of HKU as a HKU postgraduate student. There are 2 classes per week, Monday and Thursday. I thought it might be better if I work in NP however, things turn out to be no difference with working in MK. No matter how hard I try, I need to take an hour to go to the unitversity. I really need to talk to her for flexibility with my working hours.
A few days ago, I have got a phone call from HKU that a staff reminded me to return all forms for my registry. I immediately filled in all the forms and cleared out the files/bills that have been piled for sometimes. There are a lot of forms, I need to write the similar things over and over again. A lot of rules/guidelines/regulations to read...it is kinda exhausting indeed. It reminds me when I was undergraduate.
After the first session of counselling and psychotherapy. This is my first class of "counselling".Rita is going to have counselling classes! Isn't that bizarre?
It is amazing, a former cinema student is now taking counselling classes. What is going on?
The teacher is professor Peter Lee.
There are lot of materials to read. The question he asked is "What does "help" mean by you? I never thought this. He says his job is to confuse us and he succeed. The more he talked, the more confused I am. I am no counseling, I don't have any counseling experience. I don't know what will happen in a counseling room. I don't what are the expectation a "client" will have upon their counselor. All I know about is a genuine kindness/heart of listening, then maybe a certain space for some sharing. If the counselor able to shed some lights onto the doubts of clients, then he/she is successful to me.
It is really interesting. The lecturer seems very eager to have people get connected with each other. During the break, classmates gathered in the room, some talks about the homework, some talks about the traffic, everyone is so busy to mingle with others. "Oh! What I am gonna do??" I asked myself. "Don't be stupid! Just relax, open up and try." The other me told me.
I have set an aim that is to get good grades at the beginning but now it seems really difficult to get good grades! Hahahahah because there are a lot of smart people with very hand-on experiences. It is not I get good grades but whether I have tried my best to GIVE throughout these two years. I think I have no regrets if I have tried my best to read, to talk, to learn, to ask and to think even I don't get good grades.

公司前兩日新開張。

我和部分同事過度到北角開工。新地方面積不太大,坦言,由開張至今,裝潢仍然進行中
。
公司門口擺滿了裝潢工程的廢物,如洩了氣的氣球、廢棄的木頭、水松板、膠紙......甚麼都有。辦公桌抹了數十次仍然有灰塵。公司的姐姐盡心盡力,每一條partition都給她清潔過了,她又十分努力,當小老闆不在寫字樓時,她便會走進來巡視業務,及檢視每人的電腦熒幕是否正常運作,或者又是否正在工作
。 除此以外,公司充滿了天拿水的氣味
,我真的有點擔心自己不經不覺high了天,到時產生幻聽幻覺的時候不知道怎麼辦。
DAY 2:我的座位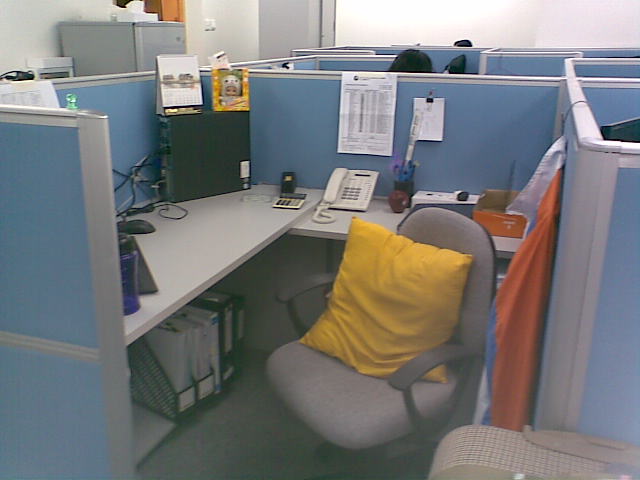 而且另一重大發現,雖然我的工作地點和讀上地方都是港島區,但原來跟由mk出發,時間一竟然是一樣!有時甚至更慢!我試過600出發,最後720才到達!
不過我卻比平時準時了,原因是每天必須趕上那班船
,否則就會很遲很遲才會返到公司!而且這兒人少了一點,是非也是了點。街上有很多商店,既有惠康、又有屈臣氏、萬寧、吉之島$10店,昨天更逛了一轉新都城,就像大陸的商場一樣,不過他有the-me,正在大減價呢
!
這個地方還在適應中。但那個上學與上班交通問題真的令我頭痛
!

My other blogs
Profile
一個徹底的白羊人。做事憑一股衝勁,接著後勁不繼,即朋友說的3分鐘熱度。怎麼說好呢﹖
即使只有3分鐘熱度,也學習如何好好發揮,成為最漂亮的永恆。
Author:martharita
事事有時節,天下任何事皆有定時: 生有時,死有時,栽種有時,拔除栽種的亦有時; 殺戮有時,治療有時,拆毀有時,建築有時; 哭有時,笑有時,哀悼有時,舞蹈有時; 拋石有時,堆石有時;擁抱有時,戒避擁抱亦有時; 尋找有時,遺失有時;保存有時,捨棄有時; 撕裂有時,縫綴有時;緘默有時,言談有時, 愛慕有時,憎恨有時;作戰有時,和睦有時。

事事有天主安排。